Wichita's Leading Pressure Washing Company
Make a Powerful First Impression
On Customers and Visitors
Hot Water Pressure Cleaning / Power Washing
Make your building, warehouse, sidewalks, walkways, parking lot, parking garage, airplane runway, siding, dumpster areas, awnings and even grocery carts, bakery racks and baking pans shine with hot water pressure cleaning.  Our top-of-the-line hot water pressure washers have the ability to remove oil, salt, rubber, grease and other heat reactive substances.  We also have the ability to bring our own water and our eco friendly pressure washing is EPA and CWA compliant because we take care to "recover" all process water.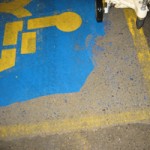 Graffiti, Paint, Parking Stripe and Gum Removal
Has your property been vandalized by graffiti or do you need paint, parking stripes or gum removed?  Clean Rite has the experience and expertise to remove them efficiently—all without damaging the surface.  We take pride in restoring your property to its original condition, enabling you to continue impressing your customers and visitors with the professional appearance of your property.

Bird and Pigeon Cleanup and Bird Control
 Do you have an annoying and unsanitary bird problem?  If so, we can help!  Utilizing our hot water pressure washers, Clean Rite will remove bird droppings off any surface and then work with you to develop the best professional bird control option for the needs of your property.

Parking Lot / Parking Garage Scrubbing
Restore your parking lot or parking garage floor to its original condition by removing layers of oil, dirt and grime.  Clean Rite's professional scrubbing service starts with an application of heavy-duty degreaser followed with commercial grade scrubbing using our high-end automatic floor scrubbers.  Clean Rite guarantees work will be performed at the most convenient time for your property.

Get your free estimate today– contact us directly in Wichita at (316) 655-5665 or online!