Parking Lot Sweeping Services that Conform to Your Schedule and Needs
Clean Rite Professional Sweeping Services
Parking Garage / Street / Parking Lot Sweeping
Make a powerful first impression, retain the value of your property and preserve the environment with parking garage, street and parking lot sweeping.  Clean Rite Property Services uses commercial sweepers and always ensures sweeping will be performed during the times most conducive to the needs of your property.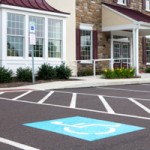 Parking Garage / Parking Lot Striping and Marking
Are your parking garage or parking lot stripes and markings faded, dull or even worn off completely?  Give your property the facelift it needs and eliminate potential liability with Clean Rite's striping and marking services, which will be performed at the most convenient time for your property using the most durable and longest lasting paint.

Parking Lot / Parking Garage Scrubbing
Remove layers of oil, dirt and grime from your parking lot or parking garage floor with Clean Rite's professional scrubbing service.  We start with an application of heavy-duty degreaser and follow with commercial grade scrubbing using our high-end automatic floor scrubbers.  Clean Rite guarantees work will be performed at the most convenient time for your property.

Concrete Parking Block Installation
Eliminate potential liability or damage to your property with the professional installation of concrete parking blocks.  Clean Rite has the experience and expertise to get the job done in an efficient and professional manner, performing all work at the most appropriate time for your property.

Get your free estimate today– contact us directly at (316) 655-5665 or online!