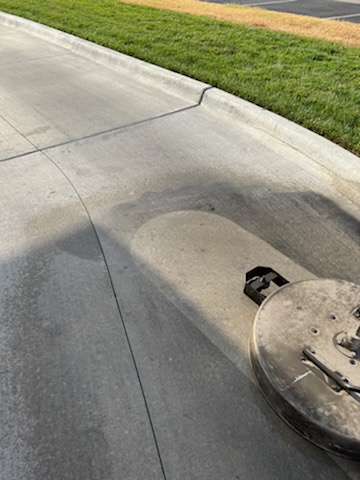 Pressure washing is more than just a cleaning method; it's an art requiring precision, expertise, and the right tools. While DIY pressure washing might seem like a cost-saving approach, the risks and potential for damage often outweigh the benefits. This guide delves into the essential dos and don'ts of pressure washing, underscoring why professional services like Clean Right Pressure Washing are your best bet for a perfect, hassle-free clean.
The Perils of DIY Pressure Washing
1. Risk of Property Damage: High-pressure water can be destructive if not handled correctly. Surfaces like wood, siding, and certain types of stone can easily be damaged by incorrect pressure or technique. Professionals understand the nuances of different materials and adjust their methods accordingly.
2. Personal Safety Concerns: Pressure washers are powerful tools. Mishandling them can lead to serious injuries, including cuts, bruises, or eye injuries. Professionals are trained to handle these machines safely.
3. The Challenge of Effective Cleaning: Achieving a uniform clean is harder than it looks. Streaks, missed spots, and uneven cleaning are common pitfalls of DIY efforts. Professionals bring a level of precision and consistency that's hard to match.
4. Time and Cost Inefficiencies: Renting equipment, buying the right cleaning agents, and spending hours on the task adds up. Professionals can often do the job more efficiently, saving you time and, in many cases, money.
Why Professional Pressure Washing is the Way to Go
1. Expertise and Experience: Professionals have the training and experience to tackle a wide range of cleaning challenges, ensuring a thorough and safe clean every time.
2. Advanced Equipment: Professional services have access to high-grade, commercial equipment that's more powerful and effective than typical consumer models.
3. Customized Cleaning Solutions: Every surface is unique. Professionals assess and apply the best techniques and cleaning agents for each specific job.
4. Long-Term Savings: By avoiding potential damages and ensuring a deeper clean, professional services can actually save you money in the long run.
When to Call in the Pros: Dos and Don'ts
Do:
      •     Call for Sensitive Surfaces: For delicate or difficult surfaces like roofs, stucco, or older buildings, always call a professional to avoid damage.
      •     Seek Help for Large Areas: Large projects like driveways, parking lots, or entire home exteriors are best handled by a professional team.
      •     Consider Environmental Regulations: Professionals are aware of and adhere to local environmental regulations regarding water runoff and chemical use.
Don't:
      •     Attempt to Remove Tough Stains Yourself: Oil, paint, or rust removal should be handled by professionals who have the right equipment and cleaning agents.
      •     Underestimate Safety Risks: High-pressure water can cause injury. Without proper training, it's best not to risk it.
      •     Forget About Time Commitment: DIY pressure washing is time-consuming. Professionals can accomplish in hours what might take you days.
Conclusion
While DIY pressure washing might seem appealing, the risks, potential for damage, and time investment make it a less than ideal choice. Professional services like Clean Right Pressure Washing not only guarantee a superior clean but also ensure safety and efficiency. Next time you consider pressure washing, remember that professional service isn't just a choice; it's an investment in your property's longevity and beauty.